International Executive Committee
International Chairperson
Kgosietsile II Matthews Mmopi, born and raised in Botswana, is responsible for the overall oversight and strategic direction of the organization across Africa and the Diaspora, including the advisory board, international executive committee and regional NGO bodies of YALDA. He has received numerous awards in recognition to his commitment to youth-based development in Africa, including the Aspen Institute Fellowship and the United Nations Gilbert Murray Trust Award, among others. Matthews is also a Rhodes Scholar, a Davis Scholar and a member of the MasterCard Foundation's Transformative Leadership Advisory Group. He holds an MPhil in Development Economics from the University of Oxford and an A.B. in Economics from Harvard College. He is also currently an Associate Partner at McKinsey & Company.
International Secretary
Rehbeh Poubom manages the operations, compliance and overall implementation of all YALDA programmes and initiatives. He has over four years of experience in legal profession and eight years experience in the nonprofit sector. He holds a Bachelor's degree in Law from the University of Buea in Cameroon and a Certificate of Call to Bar from the Nigerian Law School. Rehbeh is also an advocate of the Supreme Courts of Nigeria and Cameroon. He worked at a prominent law Chambers where he was the head of the Probono Division which offered legal aid to underprivileged accused persons. Rehbeh is the founder and Managing Partner of Poubom and Partners Law Firm where he launched the Cameroon Law Laboratory and Education initiative to increase access to justice, educate and create employment for youth.
Branches Coordinator
Bitania Lulu Berhanu is a young African leader committed to empowering bright African minds to become change agents in their communities and countries. She holds a BSc Degree in Electrical and Computer Engineering from Addis Ababa University Institute of Technology in Ethiopia and is pursuing her Masters Degree in Human and Economic Development in African Studies at Addis Ababa University. She is the founding Executive Director of YALDA Addis Ababa University (YALDA-AAU), where she has partnered with the African Union Commission to hold the first ever AU AGENDA 2063 Youth Summit. Bitania has received the Female Personality of the Year 2015 (Africa Youth Awards), Honorary Award (The Black History Month celebration), BHM 2016 (United Stated International University-Africa), and Pan African Science Award 2017 (Pan African Youth Union Congress). She was also identified by the African Youth Awards as one of the 100 Most Influential Young Africans in 2016.
Development and Fundraising Chair
Sheila Agiti is a Ghanaian who strives to work with young Africans to usher the continent into a successful and constructive future. She has worked in the United States and multiple African countries in the education, health, youth development and economic research sectors. In each role, Sheila has been instrumental in providing structure that allows the team to achieve its objectives and scale its impact. She is an alumnus of Princeton University and United World College-USA,and is currently pursuing her MSc in Development Studies from the School of Oriental and African Studies, University of London. Through her studies and as the Development and Fundraising Chair in YALDA, she hopes to garner a better understanding of cross-disciplinary approaches that surround both the theoretical and practical aspects of practicing international development.
West Africa Regional Associate
John Obuaba is a young Ghanaian passionate about driving change in his country and across the African continent. John holds MA in Development Economics and Bsc in Planning and is a Development Planner and a Business Strategist. He is the President of YouthLEAD Africa, a youth-led organisation that inspires and develops leadership in young people in Ghana. He has worked for several local and international NGOs promoting youth development, climate change, local economic development, local governance and social accountability. John also leads a microfinance organisation that supports rural women with micro credit to improve their businesses and reduce poverty. John hopes to lead a change process in Africa, through YALDA, by bridging the knowledge gap in young people in African societies. He hopes to see an African continent where the youth are active participants in the development process and driving the needed change.
East Africa Regional Associate
Natalie Sonia Mukundane is an industrious visionary youth leader and activist hailing from Uganda. She holds a Bachelor of Law at Middlesex University and is currently the Africa Regional Development Manager at Hatchings Ltd for Marketing MAG Africa. Natalie is also presently the Deputy Executive Chairperson of the African Youth Commission, and the co-founder of Young and Rich Africa, a skills development NGO based in Uganda. Her work with youth and leadership enabled her to represent Uganda and Mauritius at the United Nations headquarters in New York, Oxford University, and participate in international conferences and forums where she was nobly awarded at both national and international levels. Natalie aims to work with young people all over East Africa to not only help them realise their leadership potential but also to encourage them to increase their networks through hosting various events with highly regarded professionals in the region.
North Africa Regional Associate
Mostafa Adel is a dynamic development professional who aspires to create communities of practices across the non-profit sector. Having pursued masters' degrees in Project Management and Public Administration, he graduated with honours from Aberdeen Business School, Robert Gordon University and the American University in Cairo respectively. He possesses extensive work experience in leading international organizations from previous engagement with Save the Children, United Nations Volunteers and GIZ. He currently works with UNICEF as Education Officer working on the Life Skills and Citizenship Education component, contributing towards the education reform process in Egypt. A firm believer that we can change the face of our societies through professional volunteerism, Mostafa was awarded the Chevening Social Media Ambassador and the UK Alumni Awards for the Social Impact Category by the British Embassy and the British Council. He was also selected to join the Obama Foundation Leaders for Africa program.
Publicity and Communications Chair
Sheila Achieng' is passionate about transforming Africa through youth empowerment. She holds an Msc. Marketing degree from the University of Nairobi with experience in development and implementation of national branding campaigns. She's also an Amref Youth Advocate and champions the provision of quality healthcare as a precursor for the realization of sustainable development goals on health. As a beneficiary of a World Bank training on sustainable agriculture, Achieng' emphasizes the need gender equitable agricultural development by encouraging young girls and women to explore opportunities in agribusiness. Based on her engagement with the youth, she has received recognition for her efforts in addressing key policy issues affecting youth and adolescents in Kenya. Achieng' is also a Commonwealth Leadership Fellow and works within the Akili Dada mentorship network to develop productive capacity, nurture leadership potential and position young women as change agents within society.
YALDA US President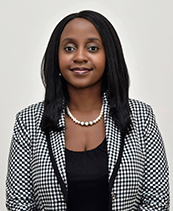 Laone Bukamu Hulela is one of the co-founders of YALDA and is very passionate about inspiring young Africans to dare to dream and to adamantly pursue the implementation of their dreams and thereby show the greatness of the African continent and its people. She currently works at Africa50 an infrastructure investment fund established by the African Development Bank. She holds an MBA with Honors from Harvard Business School and is also a graduate of Harvard College. Ms. Hulela has varied career experiences having worked for the United Nations in New York, where she also served as President of the United Nations Africa Club. Prior to this engagement, she was at McKinsey & Company in Johannesburg office and also worked at Standard Bank Africa in Corporate and Investment Banking.